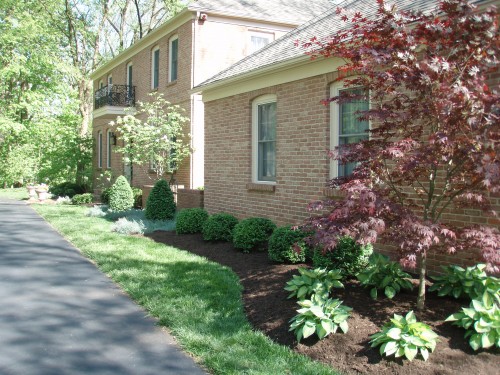 Design
The designer's job is to create a plan for you with the best low maintenance shrubs and perennials to accommodate your site. We will come out to your location to take measurements and check out what plants and colors would work for your space. We have to take into consideration the amount of sun or shade the space might offer. Along with colors, height, and width of the plants and whether the plant should be an evergreen or deciduous tree.  
Our designer will work with a variety of colors and textures of the landscape material and how it all should come together in your design. We also have a great knowledge of the plants themselves, how they grow and perform in the Dayton area because we grow most of the plants we use in our designs locally in our nursery in Beavercreek, Ohio. There is a lot to consider with your new landscape design and with your help and input we can create a great space for you to enjoy for many years.
Installation
Being a small family business, someone from our family will be onsite to ensure the job is done as if it were our own home. We have Ohio Certified Nursery Technicians that ensure everything from your plant material to your paver patio is installed appropriately. Beavercreek Landscaping has professional, experienced landscape crews and we are proud to be a drug-free workplace.
Maintenance
Beavercreek Landscape is able to do anything outdoors to help maintain your current landscape, from spraying weeds to sealing your paver patio. The spring is the normal time for us to do a clean up from the long winter and the busiest but we can come out to your home or business and trim or re-mulch any time of the year.
Pruning & Mulch Cleanup
Spring is the busy season for Beavercreek Landscaping. We have many clients on our list to trim, mulch, and do a basic clean up of the yard after the long winter. On a normal clean up we are able to spray weeds, trim the shrubs, rake leaves, edge the beds, fertilize plants and put down pre-emergent to keep the weeds down for the year. Along with trimming we also specialize in hand pruning shrubs. Hand pruning is the best way to keep your plants the size you want and healthy from a horticulture standpoint. After everything is back to normal, we mulch the beds and get your home started off at square one for the new year.
Shrubs & Perennials
We take great pride in our trees, shrubs, and perennials the majority of which are grown locally at our nursery in Beavercreek, Ohio. Growing plant material locally ensures the plants are familiar with the Dayton area climate. It also lets us experiment with new shrubs and perennials in our nursery. If we can grow the new varieties well here, in our local nursery, then we feel comfortable planting them in your yard.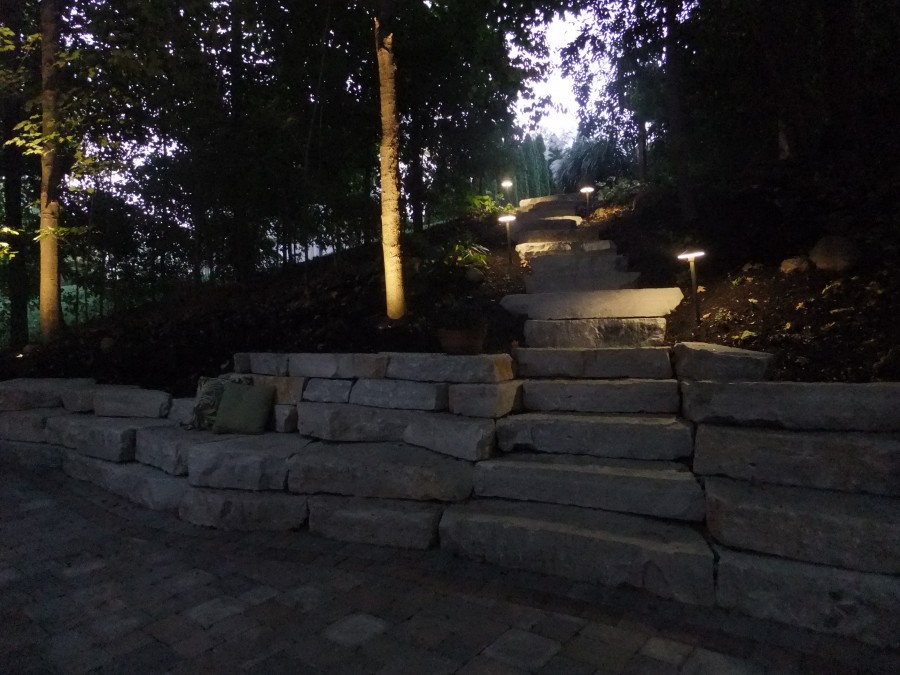 Lighting
Landscape Lighting is a great way to make your outdoor space more usable. After you have spent so much time on your landscaping why not emphasize your trees or new patio with lighting. Lighting highlights the main features of your landscape or hardscape and lets you use and enjoy the space even after it gets dark.
With a transformer that converts power to low voltage and new LED lights, lighting is inexpensive to operate. The transformer has a built-in timer that is able to come on at dusk and turn off a few hours later so lighting is carefree and only runs when needed.
Click Here to view our lighting work!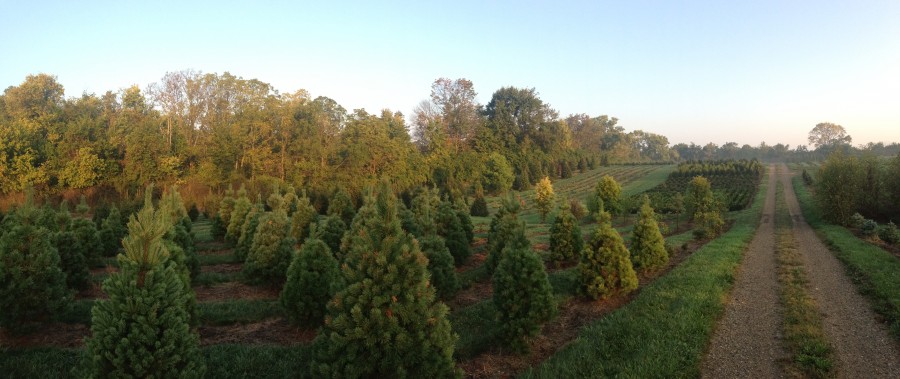 Evergreen Trees (grown locally at our nursery)
Our nursery started off as a cut your own Christmas tree farm in 1991. When tree sales started to decline we had to find a better use for all the trees still planted in the ground. We bought a tree spade which is able to dig up to a 6-7' evergreen. Now we still have our cut-your-own Christmas tree sale in December at our nursery in Beavercreek, Ohio and the rest of the year we are able to use the trees for landscaping. Not only do we grow evergreens but many deciduous trees along with most of our own shrubs and perennials.
Click here to view our Evergreen tree farm!
Enriched Topsoil & Bulk Mulch Delivery
All year Beavercreek Landscaping supplies the greater Dayton area with Mulch and Enriched Topsoil. We screen our own topsoil at our shop in Beavercreek, Ohio and it is kept in a barn to keep dry all year long. It is more of an enriched topsoil. It has more organic matter added to it than your average topsoil making it great for low spots in your yard or your garden.  
Compost is another great product we offer that is great for enriching the soil in your garden or landscape beds.
We also offer a double processed mulch. It is made up of tree bark from hardwood trees in southern Ohio. It is straight bark with no ground-up pallets or wood chips added to it. It is naturally aged with a rich dark color and is a very nice product. We also offer a double processed dyed black mulch that holds its color all summer long.
Click Here to view our top soil & mulch products!



Click Here to view all our landscaping work and products!